Do you have a store location or are you only an online store?
Norman Camera has been a retail outlet with a physical store since 1957. We have established and maintained a stong reputation for customer service and satisfaction in the West Michigan community for over 40 years and are committed to bringing those same values to our online store. See a picture of our store on our company information page.
Where are you located?
Norman Camera is located in Kalamazoo and Grand Rapids, Michigan. See store addresses and map links below.
Grand Rapids, MI Store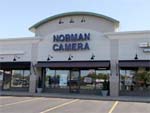 2954 28th Street SE
Grand Rapids, MI 49512
View map
Phone 616-954-9920
Fax 616-954-9921
HOURS:
Mon-Tues
10AM-6PM
Wed-Fri
10AM-7PM
Saturday
10AM-6PM
Sunday
CLOSED
Kalamazoo, MI Store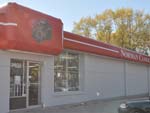 3602 S. Westnedge Ave.
Kalamazoo, MI 49008
View map
Phone 269-343-0460
Fax 269-343-6410
HOURS:
Mon-Tue
10AM-6PM
Wed-Fri
10AM-7PM
Saturday
10AM-6PM
Sunday
CLOSED
What do I do if I have a problem with an order, invoice, or credit made to my credit card by Norman Camera Company?
We have a return policy regarding orders you receive and wish to return for any reason. Please read the policy and call us to obtain your Return Authorization number.
Please e-mail us anytime or call our toll-free number with any other questions you have about your order, invoice or credit card bill. Please have your online order number, customer code and invoice number available at the time of your call, and be sure to include this information along with your full name when e-mailing your inquiry.
Is Norman Camera an Authorized Dealer?
We are an authorized dealer for every product we sell. Every product we sell comes in the original packaging, in factory sealed packages, with all of the items included by the manufacturer.
Do the products Norman Camera sells come with USA Warranties?
Every product we sell comes with the USA Warranties supplied by the manufacturer.
How long does it take to get a response to my e-mail?
Every e-mail is usually responded to within 24 hours. During holidays and weekends, please allow extra time. Norman Camera prides itself on its customer service and endeavors to answer every e-mail in a timely manner.
After I have placed my order, how long does it take before it is shipped?
Orders placed online are usually processed within 24 hours when all items are in stock, except on Saturday and Sunday. Orders placed before 4:00 PM EST M-F are shipped the same day.
Overseas orders, please allow extra time for credit card validation.
When I place my order online, when is my credit card charged?
Norman Camera Policy is to charge credit cards only at the time the order is shipped.
Does Norman Camera supply Fedex tracking numbers?
Yes at the time of shipment your tracking number will be emailed to the email address you provided on your order. Please make sure we are not blocked by your SPAM blocker. The email will come from shipping@normancamera.com.
Norman Camera reserves the right to call with corrections of any pricing errors found on our site due to human error. If this happens your credit card will not be charged and your order will be immediately cancelled with explanation.
How do I get help?
To get help placing an order, e-mail our sales department at sales@normancamera.com, fill out an infomation request, or call our toll free number, (800) 900-6676 to contact our sales staff.
To get help using the web site, report incorrect information, or report a broken link, e-mail the webmaster at webmaster@normancamera.com.
Our staff is available to answer the phones during our store hours. We are closed on Sundays, Christmas, Easter, New Years Day, July 4th and some other holidays.
Call Norman Camera & Video Toll Free at 800-900-6676